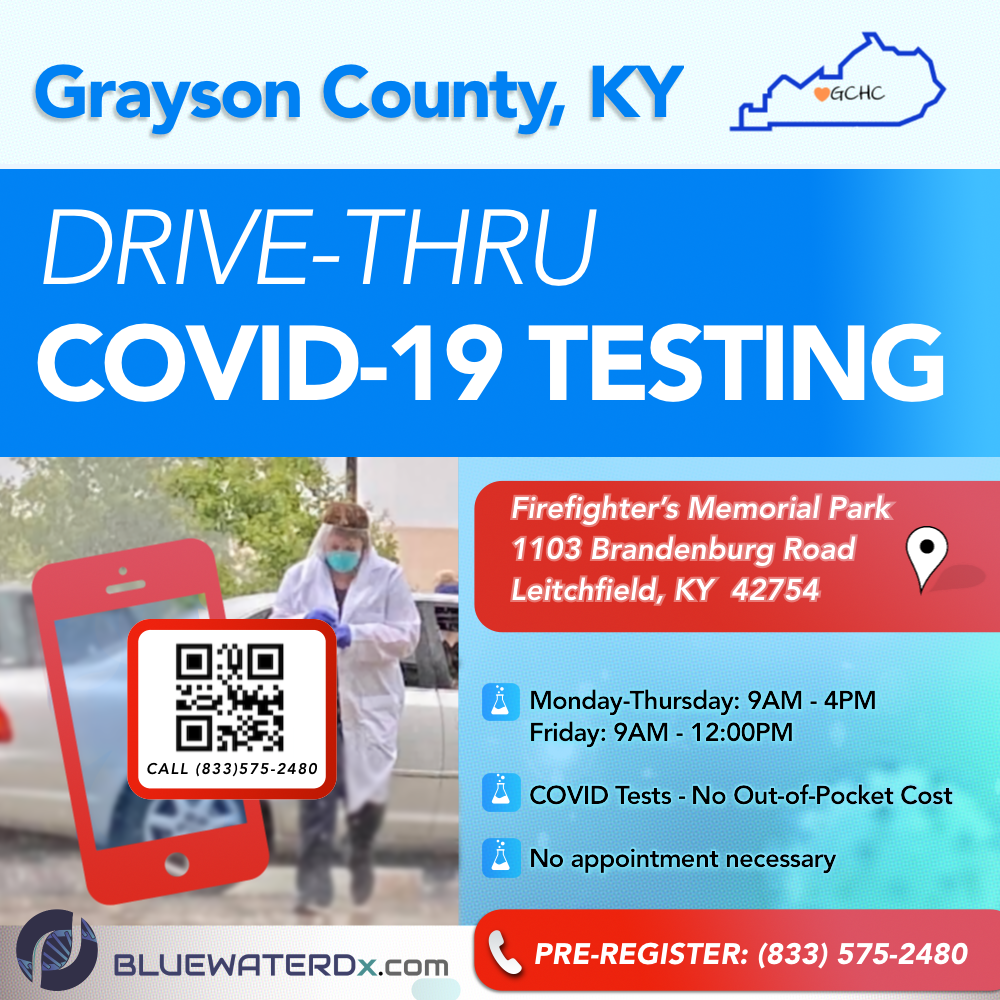 COVID-19 testing is available in Grayson County through Bluewater Lab -- a separate entity, not affiliated with the Grayson County Health Department or Grayson County Schools.
Testing is free for GCS students and staff at the Firefighter's Memorial Park (not the fire station).
Preregister with the QR Code or call 833-575-2480 on your mobile device and you will receive a text.
UPDATE: As of August 30, preregistration is required.
Hours for testing can be found at: https://www.bluewaterdx.com/.../mobile-collection-sites/
Links to:
Test Registration by Mobile Phone - Instructions
COVID-19 Testing: Informed Consent Form (Please complete in advance if possible. Copies will also be available to fill out on site, but doing so will increase waiting time)


COVID-19 REPORTING DASHBOARD
CURRENT UPDATES
Sept. 14: With the passage of Senate Bill 1 last week, the statewide mask mandate was eliminated and school districts given decision-making authority based on local health conditions. Grayson County is currently firmly in red on the state incidence map. We are also, both alarmingly and sadly, one of the top 10 counties in the nation for COVID-19 infection.
Grayson County Schools will continue to require facial coverings for all students, staff, and visitors inside our school buildings unless otherwise exempt (ex: cannot wear a mask due to disability), regardless of vaccination status. This, along with a multi-layered prevention approach including social distancing, and hand hygiene, follows current guidance from the Kentucky Department of Public Health, CDC and American Academy of Pediatrics. Masks are also required on school buses by public health order of the CDC.

Daily Symptom Screening: If your child has a temperature of more than 100.4 and/or these symptoms, please do not send them to school:
New cough

Shortness of breath or difficulty breathing

Fatigue

New rash

Muscle or body aches

Headache

New loss of taste or smell

Sore throat

Congestion or runny nose

Nausea, vomiting, and/or diarrhea
Link to: Parent Assurance for Daily Student Health Assessment
Contact Tracing and Quarantines: Grayson County Schools will once again partner with the Grayson County Health Department on contact tracing and quarantines during the 2021-22 school year.
Below are links to sample letters that you will receive should your child potentially be exposed as either:

-- A direct contact of an individual who tests positive with COVID-19 and be required to quarantine.

-- A non-direct/low-risk contact of an individual who has tested positive, but due to distance or time spent directly with that individual, your child will not be required to quarantine unless further investigation warrants, or they should develop symptoms.

Should you have any questions, feel free to contact your school and/or school nurse.
Aug. 20: At this time, we will only quarantine those students that are deemed to have been less than 3 feet for the cumulative 15 minutes in a 24-hour period OR were unmasked during an exposure of 6 feet or less for the cumulative time of 15 minutes in a 24-hour period.
Students who were 3 feet or greater in distance will not be quarantined if both the positive individual and the student were wearing properly fitting masks. However, if we start to see spread within a classroom, this process may be re-evaluated.
We are making a conscious effort to decrease any unnecessary quarantines. The health and safety of our students and staff is always our top priority, however, and adjustments will be made as needed.